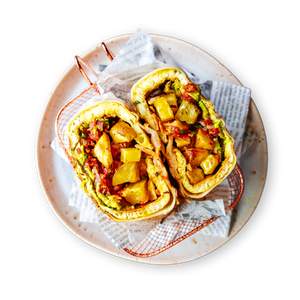 Breakfast Burrito
Enjoy our recipe Breakfast Burrito by feastr. Ideal to lose weight. Balanced and very tasty.
Recipe instructions:
1
Preheat the oven to 350 °F.
2
Dice the potato and bacon, place in a bowl alongside the remaining ingredients, mix well, place everything on a baking tray lined with parchment paper, and bake for 25 minutes.
2.8 oz Potatoes (w/o skin)

2 slices of Bacon (~ 0.7 oz)

1 tsp Olive oil

½ tsp Sweet paprika, ground

Salt

Black pepper

Oregano leaves, dried
3
Whisk the eggs in a bowl, season with salt and pepper.
3 Eggs (~ 5.8 oz)

1 ⁠½ Tbsp Low fat milk

Salt

Black pepper
4
Heat the oil in a no stick frying pan on medium heat. Add as much egg mixture into the pan to cover the bottom of the pan and fry for approx. 2.3 minutes until the eggs start to set. Flip, turn off the heat and let rest.
1 tsp Canola oil
5
Dice the veggies and herbs, season with lime juice, salt, and pepper.
6
Peel the avocado remove the pit and mash with a fork.
½ Avocado (~ 3.5 oz)
7
Place the egg on top of the wraps. Spread the avocado on top and top with salsa and potatoes. Fold up the bottom to cover the filling, then fold in the edges. Roll up to seal.