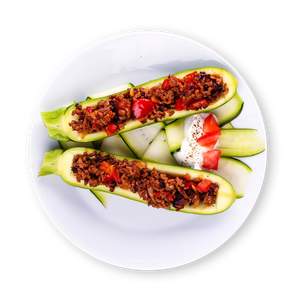 Bolognese Zucchini Boats
Enjoy our recipe Bolognese Zucchini Boats by feastr. Ideal to lose weight. Low Carb, High Protein, and very tasty.
Recipe instructions:
1
Preheat the oven to 350 °F.
2
Halve the zucchinis and spoon out the pulp. Line a baking tray with parchment paper and place the zucchini halves on top with the cutting side facing up. Finely dice the tomatoes and put in a bowl.
2 Zucchinis (~ 15.5 oz)

2 Tomatoes (~ 8.5 oz)
3
Rub the zucchinis with garlic, drizzle with olive oil and season with salt and pepper.
4
Bake for approx. 15 minutes on the middle rack of the oven until the zucchini halves are soft.
5
Finely chop the onion, garlic, and pepper and put into a bowl.
½ Onion, yellow (~ 1.4 oz)

½ Garlic clove (~ 0.1 oz)

½ Bell pepper, red (~ 2.6 oz)
6
Fry the minced meat over high heat in a non-stick frying pan.
5.3 oz Ground beef
7
When the meat starts to brown, turn the heat down to medium, add the peppers, onion, tomato paste and garlic and fry for approx. 4-5 minutes.
1 tsp Tomato paste
8
Add the tomatoes and spices and let simmer for approx. 3-4 minutes.
½ tsp Thyme leaves, dried

½ tsp Oregano leaves, dried
9
Take the baking tray out of the oven and fill the zucchinis with the meat sauce.
10
Add the diced zucchini core to the pan and cook for 2 minutes over high heat and serve with the stuffed zucchini.