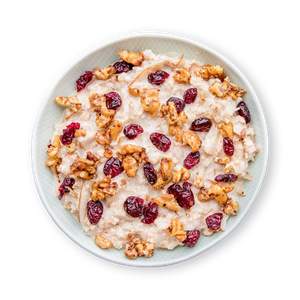 Bircher Cranberry Pear Oats
Enjoy our vegetarian recipe Bircher Cranberry Pear Oats by feastr. Ideal to lose weight. Balanced, quick, and very tasty.
Recipe instructions:
1
Grate the pear and put in a bowl.
1 Pear (~ 6.7 oz)
2
Add the oats, milk, and cinnamon and mix well. Let the bowl sit in the refrigerator for approx. 10 minutes.
3
Stir the yogurt and cranberries into the cereal.
4
Chop the walnuts coarsely. Serve the muesli and top it with the walnuts.
1 ⁠½ Tbsp Walnuts