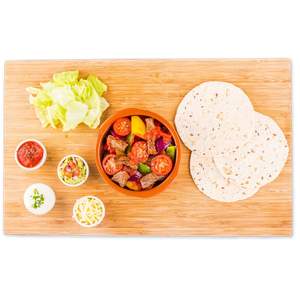 Beef Fajitas
Enjoy our recipe Beef Fajitas by feastr. Ideal to lose weight. Balanced and very tasty.
Recipe instructions:
1
Cut the lettuce into bite-size pieces and put on a plate. Cut the onion and pepper into strips and put both into a bowl.
½ Romaine lettuce (~ 2.1 oz)

½ Onion, yellow (~ 1.4 oz)

½ Bell pepper, red (~ 2.6 oz)
2
Dice the tomato and add to the plate.
1 Tomato (~ 4.2 oz)
3
For your guacamole, mash the avocado in a bowl. Season with salt, pepper, and lemon juice.
½ Avocado (~ 3.5 oz)

Salt

Black pepper

½ Lemon (~ 1 oz)
4
Finely chop the cilantro. Mix the yogurt, salt, pepper, cilantro and crushed pepper in a bowl until creamy.
5
Cut the meat into thin strips.
4.1 oz Sirloin steak
6
Heat the canola oil in a non-stick frying pan over high heat. Fry the meat until browned and set aside.
1 tsp Canola oil
7
Heat the canola oil in the pan over medium heat. Fry the pepper and onions until the onions turn translucent and stir in the tomato paste.
1 tsp Canola oil

1 Tbsp Tomato paste
8
Add the vegetable broth and crushed pepper and cook until reduced completely.
2⁄3 cup Vegetable broth

½ tsp Crushed pepper
9
Add the beef strips to the pan, turn off the heat and warm with the residual heat.
10
Place the tortillas in a pan over medium heat and cook them for about 30 seconds on each side.
11
Build your Tortilla by topping it with salad, tomato, sauces, beef vegetable mixture, cheese, and cilantro. Wrap the burritos, folding in the top and bottom ends, then roll the burrito together from right to left.