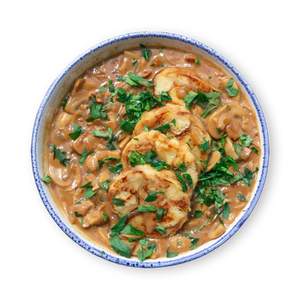 Bread Dumplings with Creamy Mushroom Sauce
Enjoy our vegetarian recipe Bread Dumplings with Creamy Mushroom Sauce by feastr. Ideal to lose weight. Balanced and very tasty.
Recipe instructions:
1
Dice the rolls and add into a bowl. Bring the milk to a boil and add into the bowl and mix well. Add the egg into the bowl mix again, cover and set aside for 20 minutes.
2
Heat a pot with water and bring to a boil. Turn down the heat until the water simmers.
3
Finely chop the onions and garlic and set aside. Slice the mushrooms.
1 Onion, yellow (~ 2.8 oz)

1 Garlic clove (~ 0.1 oz)

4.4 oz Mushrooms
4
Season the dough with salt, pepper, and nutmeg. Take the breaded dumpling dough and form 5-6 thick rolls out of it. Place them on rectangular pieces of tinfoil. roll up and seal. Add into the pot with simmering water and let simmer for 20-25 minutes.
Salt

Black pepper

¼ tsp Nutmeg, ground
5
Heat the oil in a non-stick frying pan. Add the onions and garlic and fry until the onions turn translucent. Add the mushrooms and fry for an additonal 10 minutes.
1 tsp Canola oil
6
Deglaze with white wine, cream and broth and let simmer for 15-20 minutes. Stir occasionally. Season with salt and pepper.
2 Tbsp White wine

½ cup Whipping cream

½ cup Vegetable broth

Salt

Black pepper
7
Finely chop the parsley. Take the dumplings out of the water and tinfoil, slice, serve with the mushroom sauce and top with parsley.