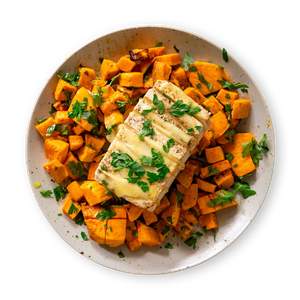 Baked Tofu with Sweet Potatoes
Enjoy our vegan recipe Baked Tofu with Sweet Potatoes by feastr. Ideal to lose weight. Balanced and very tasty.
Recipe instructions:
1
Preheat the oven to 350 °F.
2
Coarsely chop the parsley. Salt and pepper the the tofu from both sides. With a sharp knife cut thin vertical slices from one end to the other, being careful not to cut them all the way through. Put the tofu in a bowl.
3
Add soy sauce, cumin, parsley and cayenne into the bowl, mix well and let marinate.
4
Dice the sweet potatoes, add into the bowl with salt, pepper, olive oil and white wine and mix well.
5
Place the tofu on top of the sweet potatoes and fill the tofu with cheese.
6
Bake the sweet potatoes and tofu for approx. 25 minutes.
7
Top the tofu with parsley and sprinkle with olive oil. Bake for an additional 7 minutes and serve afterwards.
2 tsp Olive oil